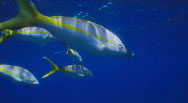 Fish Photo Caption
Students and staff members at De Montfort University's Health and Community Studies section will join me in praising the commitment of Diane Tomlyn for pursuing her studies in youth and community work, often against the odds of her other commitments. She would share stories of putting the world to rights, ensuring more equal representation on committees that she served on, as well as developing effective work with young people and communities that she came into contact with.
Her work with the Homestart project in Loughborough was the subject of much of her reflection with us. She was hard-working, determined and compassionate.
In 2001, Diane discovered that she had cancer and took a reprieve to get treatment, Sadly, the cancer took Diane from her family and friends on Thursday 5th April 2001. She had been awarded the DipHE in Youth and Community Development, the day before, for her achievements to that date.
Our thoughts are with Diane's family at this difficult time. Our memories are of a caring and determined youth and community worker.
Diane Tomlyn (19 - 2002) Youth and Community Worker and Student at De Montfort University, Leicester.