In November 2001, the Community and Youth Worker's Union (CYWU) held its annual conference for students. Whilst the attendance was low, the feelings and views amongst the participants were high - particularly on the issue of field practice placements.
The reality of under-funding and sub-standard recognition for youth work comes to different people at different times. Its hard enough for those who advocate professional youth work to always answer "No, we're not social workers", but to be relegated to the backbench by their own employers (i.e. the Government) is an insult that hurts more. The feeling amongst many students is that youth work is just seen as an add on to education, or leisure or social services. This is confirmed by its loose statutory base and from the previous, continuous cuts throughout the Conservative government.
Thankfully, some of these attitudes are being rethought with the Labour administration. Principally, the arrival of Connexions shows a commitment (albeit filled with conditions) to the role of youth workers in shaping modern citizenship. The efforts of those who engage with 'socially excluded' young people in schools is also given a name - "mentoring" is threading throughout educational institutions.
So, with all these exciting, new money initiatives (lets not forget Sure Start, New Deal, etc...), one would think that with it comes a new regard for youth workers? The previous lifelong learning ministers have, in their own ways, spoken about the value of youth work. For sure, these are great ego boosters for a profession that was maligned by Thatcher and co. to the point of death. But an issue that is currently causing concern is the inadequate support for students undertaking their professional training.
Currently, youth work training is overwritten by the JNC (Joint Negotiating Committee for Youth and Community Workers), with NYA (National Youth Agency) and CYWU (Community and Youth Workers Union) approval. So, those who gain their professional qualification (available to those who undertake an academic degree or diploma) will have received a set of recognised standards. This, sometimes referred to as the 'license to practice', underpins professional youth work. What students at the CYWU conference debated, is the issue of financial recognition from the government. A CYWU student charter states that "youth work placements should be on a par with those for social workers and teachers". This, many would agree, is laughable. For example, social work placements in a voluntary agency can attract a 2000 GBP lump sum to ensure that the environment is well supervised and resourced for social workers to train effectively. In contrast, voluntary agencies that take on Leicester De Montfort youth work students can apply for a sum in the region of 100 GBP. This money comes directly from student tuition fees, thus reducing the amount available for other course expenditure.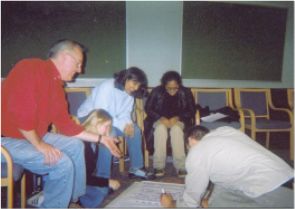 So motivated were students at the CYWU conference for change that they have decided to form an active campaign. They are not alone in their determination, with the CYWU and this website also joining their cause. A petition is being prepared and circulated to students in the near future calling on the government to reassess the overall funding for youth work studies. After all, if the government really places such faith in the promise of Connexions and other services, it will require qualified, professional staff to deliver its word.
For more information about the fair placement campaign, get in touch with the CYWU who are preparing a petition.
links

(Clockwise) Leigh McGough, Doug Nicholls, Lisa Campbell & Abida Hussain debate placements.