Waiting to chat to Shikoll Akthar at the Black Prisoner Support Project combines feelings of comfort and unease. Whilst the chairs are comfy, the collection of newspaper stories depicting the racism that locates itself within our justice system could make anyone sick. Hardly a week goes by without a story of judicial racism becoming news (or more disturbingly not becoming news). Responding to complaints of racism in the prison service, the Black Prisoner Support Project was formed by collaboration between Leicester Race Equality Council and the Leicestershire Probation Service. Established in the early part of the 1990's, it continues to do excellent work in Leicestershire.
The service is a community-focused one, with much of its energy committed to increasing confidence amongst Asian, Afrikan and Afrikan-Caribbean communities in assisting Black prisoners and ex-Prisoners. This means lots of tireless development work, encouraging the project's most valuable commodity - volunteers.
Shikoll Akthar, a full time student on the BA (Hons) Youth and Community Development course in Leicester, has come to BPSP as a student placement. She has an experience ahead of her - taking on the recruitment and supervision of new volunteers.
"There are 2 full time workers at the project," Shikoll informs me. "But the organisation wouldn't function if it were not for the pool of volunteers. They really are the staff."
This is a similar story for voluntary organisations everywhere. It was once said that if all the volunteers left in droves from organisations and charities everywhere, this sector would collapse. They are indeed, a valued contribution to the ongoing work of organisations like BPSP.
Volunteers at BPSP involve themselves in visiting prisoners, advocating for them in legal, health and educational issues, and supporting ex-prisoners. In return for their invaluable service, the BPSP provides ongoing training opportunities and regular supervision.
Shikoll is excited about the work that she is involved in. During our talk, she lights up with enthusiasm about recruiting new people to promote such a positive response to the needs of Black prisoners.
"Its a challenging post, but really very interesting," She says. "I'm hoping that members of communities will come forward to support this project at a time when volunteers are really needed."
As I leave our meeting, that sense of unease is gone. Whilst there are many injustices still going on everyday in the judicial processes, it is refreshing to see Shikoll and her colleagues actively working to affect change in their roles.
To find our more about the Black Prisoner Support Project, contact Shikoll or Anderson at the above address.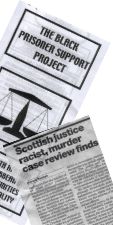 The Black Prisoner Support Project is looking for Asian, Afrikan & Afrikan-Caribbean volunteers to join their team. If you think that you could get involved, please contact Anderson or Shikoll at BPSP, 3rd Floor, Epic House, Leicester. LE1 3SH. Tel: 0116 299 9802.